The Family Room in Washington DC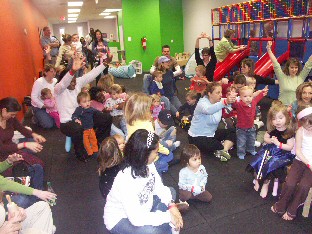 Kids are a blessing and traveling with them creates fond memories and great times, but sometimes kids and adults need a little time to themselves. Kids need to be allowed to be kids and go crazy, running around, and having fun. While adults need a little sanity time to recollect, think, and have a little peace from all the never-ending questions. The Family Room in Washington DC is the perfect place for both children and adults. This indoor play area for children…and adults allows everyone the chance to have a little free time and be happy.
For Kids
This kids haven provides enormous climbing structures, numerous supply of toys, art supplies, and tons of books for children. Come get into the dress-up area, cook up a meal in the kitchen area, all aboard the train table, or just run around the huge space. With regularly scheduled activitis, craft times, music time, and story time, kids are in for a blast.
For Adults
Because adults need to have adult time, the Family Room offers magazines, a lending library, free WiFi, and a space for your kids to play that you don't have to clean up. Read a book while there or take it home and bring it back when you are done. Whatever you choose to do, you are given peace of mind that your kids are well taken care of and you have a little time to yourself.
Special Events
The Family room has various special events including:
Story times,
Family Movie Nights,
Special appearances by Mr. Derby, and Mr. Tony,
Craft days
The Family room can be a onetime stop or daily fun house. Geared towards children newborn to seven years, your child's wild days can be contained in a fun house just for them. There are no reservations to drop in and play; pay only once and come and go as you please. A day pass is a great deal at only $10 for the first child and $5 for all other siblings. If you want to make it a monthly trip or a daily adventure, members pay a onetime fee of seventy dollars a child per month and unlimited access and huge savings on special events and classes.
Whether traveling through or staying for awhile, the Family room is a fantastic place to give kids and adults the break they both deserve. So, stop on by at 411 8th street SE on the second floor and have a day of fun and peace.