Mandarin Oriental Washington Hotel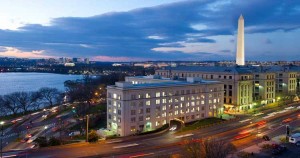 A hotel can either make or break the vacation fun especially if you don't get what you are expecting. When you visit the grand-old city of Washington D.C. you should get the best of the best; that's why the Mandarin hotel is one worth staying at. Mandarin Hotel sits on the perfect location right off D.C.'s illuminating waterfront. Located in such a perfect spot, the Mandarin is the only hotel in all of Washington that can offer views of the Jefferson Memorial, the Washington Monument, the Washington Marina, and the Tidal Basin making it the picturesque hotel of Washington.
Built with an elegant French style yet still reflecting the city's admiring modern architecture, this nine-story, and four hundred room hotel has two high-quality restaurants, over thirty thousand square feet of meeting space, the most exquisite guestrooms and suites, and a high-tech spa and fitness centers for your convenience. As if these luxurious features aren't enough, Mandarin Oriental Hotel is just minutes from the National Mall, all the most popular attractions, famous museums, restaurants, shopping plazas, and entertainment.
Delectable cuisines are served right at the hotel; Take your choice from Mandarin Oriental's signature restaurants:
CityZen-Though Asian style permeates the hotel, this award-winning restaurant offers modern American cooking. Throughout the years, CityZen has received numerous honors including being named the "100 best farm-to-table restaurants in America," "Fine dining Restaurant of the year," and was honored for offering "one of the five top meals in the USA" With so much accreditation, it's worth it to stay at the hotel just to eat at the world-famous CityZen.
Sou' Water-Known for its panoramic water views from floor to ceiling, Sou' Wester offers an oriental style for the whole family. With festivities on the lush lawns, this is the perfect option for an outdoor dining experience.
Take advantage of the Asian style guestrooms with three dual phone lines, high-speed internet, flat screen TVs, and lavishing marble bathrooms with beautifully decorated soaking tubs. With oriental elegance, traditional touches of Feng Shue, yet all the accommodations of high class statute, you will be snoozing off to dreamland in no time at all. When life gets tough, hotels make it easier.
Take time to enjoy the luxuries of this magnificent hotel by visiting the relaxing spa and fitness area. With steam room's, showers, saunas, vitality pool, ice fountain, cold plunge pools, and relaxation room, you are sure to relieve all the stresses of life and truly enjoy your vacation.
In staying at the Mandarin Oriental hotel, you are sure to love it, and the best thing about that is Mandarin Oriental now operates over forty one hotels with seventeen in Asia, fourteen in the Americas, and ten in Europe and North Africa. So wherever you go, you are sure to find prestige and luxury.