Facts about the Washington Monument
Towering some 555 feet up into the air, the Washington Monument reaches up above Washington DC and can easily be seen when approaching the city. This monument, which pays tribute to its namesake, George Washington, has come to be one of the iconic symbols of this capital city.
The Washington Monument was commissioned in 1848 by James Madison, John Marshal and the Washington National Monument Society to pay tribute to the contributions of the first president of the United States, George Washington. The monument was designed by Robert Mills, who created the Neo-Egyptian obelisk style of the monument. On July 4, 1848, the cornerstone for the monument was laid. During construction, difficulties arose, including conflicts over donations of the materials for the monument, funding of the construction and the Civil War. Despite the turmoil and some minor changes to the design, the construction of the Washington Monument was completed on December 6, 1884 and on October 8, 1888; the building was open to the public.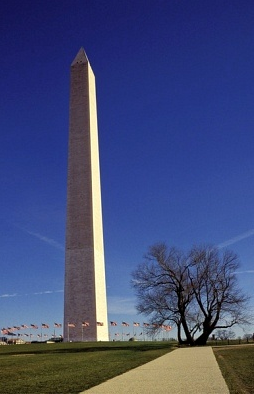 The Washington Monument is made primarily of Maryland marble blocks, though marble from Virginia, as well as some granite also makes up part of the building; all together, a total of 36,491 blocks make up the monument. Contained within the walls of the monument are 193 memorial stones, which were donated by countries, states, individuals and societies. The thickness of the walls at the base of the monument is 15 feet and at the top of the monument, the walls are just 18 inches thick.
Inside the Washington Monument are 897 steps, which are attached to an iron frame, and lead up to the top of the structure. If you're up for the challenge, you can climb the flights of steps to the observatory, where you can look out of the windows and observe the unobstructed, breathtaking views of Washington DC and its surrounding areas, including Georgetown, Alexandria and Arlington. If climbing the 896 steps seems a bit too daunting of a task, ride the elevator up to the top of the monument. While admission to the Washington Monument is free, you must reserve a ticket to secure your visit.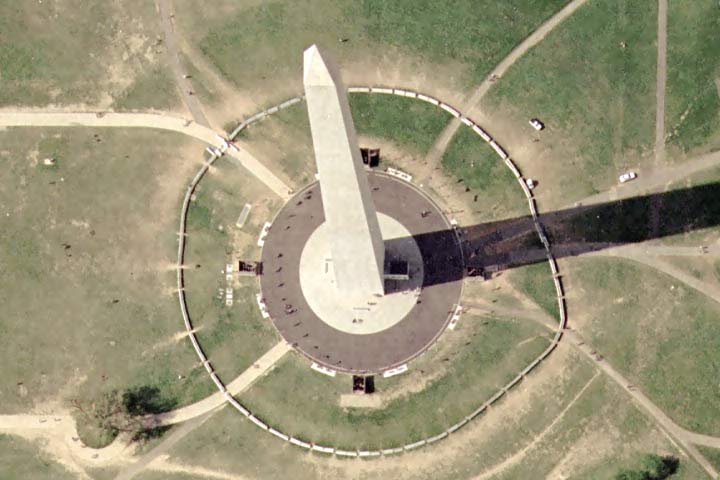 Whether you're observing the Washington Monument from the ground below, or you're taking in the views from the top of the monument, one thing is for sure; you'll reveal at the grandeur of this impressive structure that pays tribute to the first president of the United States. No trip to Washington DC is complete without seeing the iconic Washington Monument.